KEY CONCEPTS
< Go back
TEAM – Atlassian Corporation Plc
Atlassian Corporation Plc is a holding company with subsidiaries in the software development industry. Through these subsidiaries, the company designs, develops and maintains multiple software including JIRA (a service desk for creating and managing service experiences for service providers); Opsgenie (to notify the right people for incidences at the right time); Statuspage (for communicating incidents); Confluence (a remote working solution); and Trello (a project management software).
The company operates globally with it's primary market in the US (49%), Europe (40%) and the remaining Asia Pacific (11%). It's revenue can also be broken down into 4 segments; Subscriptions (63.4%), Maintenance (25%), Perpetual License (4%) and other services (7.53%).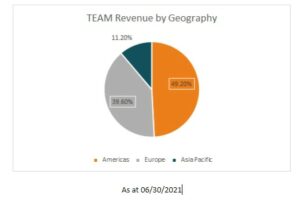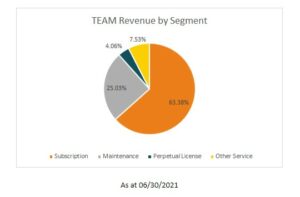 Atlassian is now shifting towards the cloud model, investing in high R&D projects, and has informed investors this will impact it's gross margins in the coming years. The company has a substantial amount of cash balance (US $919 million) and is setting up it's own corporate venture capital (CVC) fund, which it aims to utilize to collaborate with upcoming start–ups and projects, a strategy taken up by most large software companies.