KEY CONCEPTS
< Go back
NVDA – NVIDIA Corp
NVIDIA Corporation (NVDA) was founded in 1993 and is headquartered in Santa Clara, California. It is as a visual computing company and has a presence globally. It operates in two main segments namely Graphics and Compute & Networking. The Graphics segment includes: GeForce GPUs (gaming and PCs), the GeForce NOW (game streaming service and other infrastructure), and solutions for gaming platforms, Quadro/NVIDIA RTX GPUs (enterprise); GRID software (cloud-based computing); and automotive platforms (infotainment). The Compute & Networking segment includes: data centers platforms for AI and HPC (High Performance Computing) for application in autonomous vehicles solutions, Jetson for robotics, AI Cockpit etc. The company generates the majority of it's income (80%) from outside the US (China, Taiwan, Asia and many others).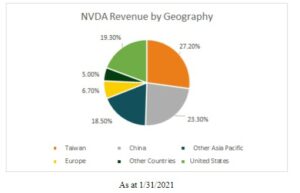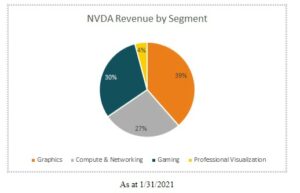 NVDA's primary source of income is its Graphics Unit (39%) and is the market leader (83% market share), however, the company recognizes the importance of diversification, and is actively branching out into new segments. It is the only company which connects to all streaming platforms (Netflix, Youtube, Amazon Prime) and is now supporting GeForce Now cloud gaming (customer base of 10 million subscribers), making it a pioneer in the sector. Analysts predict that the current shortage of microchips may also lead to a rise in prices for NVDA's products.
If you want to know more about NVDA, click here to review the article written by our investment team.