KEY CONCEPTS
< Go back
MRNA – Moderna Inc
52 week range

 

Avg. Daily Volume

 

Float %

 

Dividend Yield

 

P/E Ratio

 

Market Cap

 

65.49 – 497.49

 

12,657,760

 

85.37%

 

–

 

44.77

 

155.08B

 
Moderna Inc. (MRNA) is a biotechnology company, which was founded in 2010 and is headquartered in Cambridge. The company was initially named Moderna Therapeutics, Inc. and changed it's name to Moderna Inc. in August 2018. It is involved in the research and manufacture of therapeutics and vaccines based on messenger RNA (mRNA), which provides real-time instructions to the body to make proteins in all aspects of biology thatse are used for the treatment of infectious diseases, rare diseases, cardiovascular diseases, immuno-oncology and auto-immune diseases. 
The company showed stellar performance with it's share price soared during the COVID-19 Pandemic, as it emerged as one of the manufacturers of a vaccine, rising from US $70.03 in Oct 2020 to US $378.90 in Oct 2021 (rise of 441%). The company's revenues increased from US $60.2 million in Dec 2019 to US $803.4 million in Dec 2020.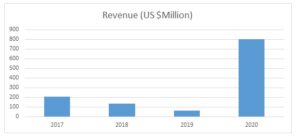 The company's EBITDA declined from US $-5.14 million in 2019 to US $-731.0 million in 2020, as the company continues to advance its pipeline of mRNA medicines by investing in a new science center in Cambridge, Massachusetts which will integrate digital-first scientific research and development labs. The construction is aimed building high performance centers and is designed to be the most sustainable commercial lab building in Cambridge to engage in joint collaborations, targeting LEED Platinum Core & Shell and LEED Zero Energy certifications. As of October, the company has 22 programs in clinical trials & a total of 37 development programs and has partnered with AstraZeneca PLC, Merck & Co., the Bill & Melinda Gates Foundation, and many others.