KEY CONCEPTS
< Go back
GOOGL – Alphabet Inc Class A
Alphabet Inc. (GOOGL) is a multinational conglomerate, which provides online advertising services through its subsidiaries. It was founded in 1998 by Larry Page and Sergey Brin and is headquartered in Mountain View, California. The company has a global footprint, with services being provided in the US, Canada, Latin America, Europe, Middle East, Africa and Asia Pacific. It is a dominant player in the tech industry, with a user base can be quantified in terms of 5.4 billion searches per day (227 million/hour).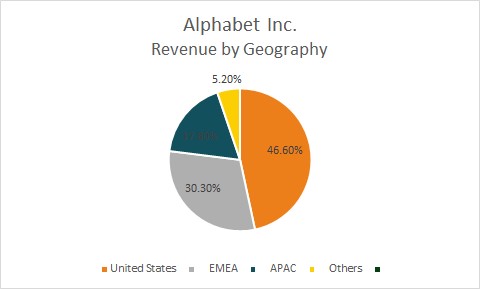 As at 31/12/2020
Its operations are divided into three main segments; Google Services, Google Cloud and Other Bets Segments. The Google Services segment provides the majority of revenue (92%) with Google Search, ads, Android, Chrome, Google Maps, Google Play, Youtube and other services such as hardware, technical infrastructure and digital content. 
The Google Cloud segment (7%) offers technical infrastructure and data analytics, collaboration tools and other enterprise services. 
The Other Bets segment provides internet and TV services, as well as licensing & research and development services.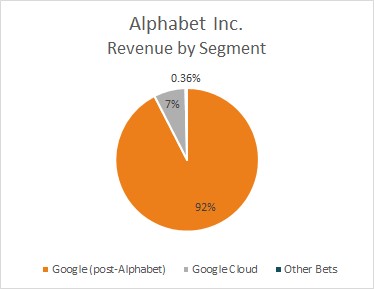 As at 31/12/2020
Its subsidiaries include Calico (biotechnology), Chronicle (cybersecurity), DeepMind (artificial intelligence), GV (venture capital), CapitalG (private equity), X (R&D), Google Fiber (fiber internet services), Jigsaw (tech incubator), Makani (wind turbines), Sidewalk Labs (urban innovation), Verily (life sciences), Waymo (self-driving tech), Wing (drone-based delivery) and Loon (internet provider via stratospheric balloons). 
Note that Alphabet is only listed once here but it has two types of stocks, with or without voting rights, listed on the Nasdaq, with tickers GOOG and GOOGL, which usually lead to two different entries in Nasdaq stocks lists.
If you want to know more about GOOGL, click here to review the article written by our investment team.
Website: abc.xyz – Market Cap.: $ 1,017 Billion – Stock symbol: GOOG/GOOGL