KEY CONCEPTS
< Go back
GM- General Motors Company
General Motors Company (GM) is one of the world's largest auto manufacturers. It designs, builds, and sells cars, trucks, crossovers, and automotive parts across the globe. GM was founded in 1908 and is headquartered in Detroit, Michigan. Its brands include Buick, Cadillac, Chevrolet, and GMC. It operates through four different main business segments: GM North America (GMNA), GM International (GMI), Cruise, and GM financials. 
GMNA manufactures vehicles marketed under the Buick, Cadillac, Chevrolet, and GMC brands.
GMI sells these brands as well as the Holden line of vehicles to customers outside the US through strategic partnerships. This segment also stakes ownership in companies in China, where vehicles are manufactured and sold under the local Baojun, Buick, Cadillac, Chevrolet, and Wuling brands. 
The company's GM Cruise unit invests and develops its autonomous vehicle technology. 
GM Financial provides automotive financing and retail loan/ lease lending products and services, as well as commercial products to dealers such as new and used vehicle inventory financing, inventory insurance, working capital, capital improvement loans, and storage center financing.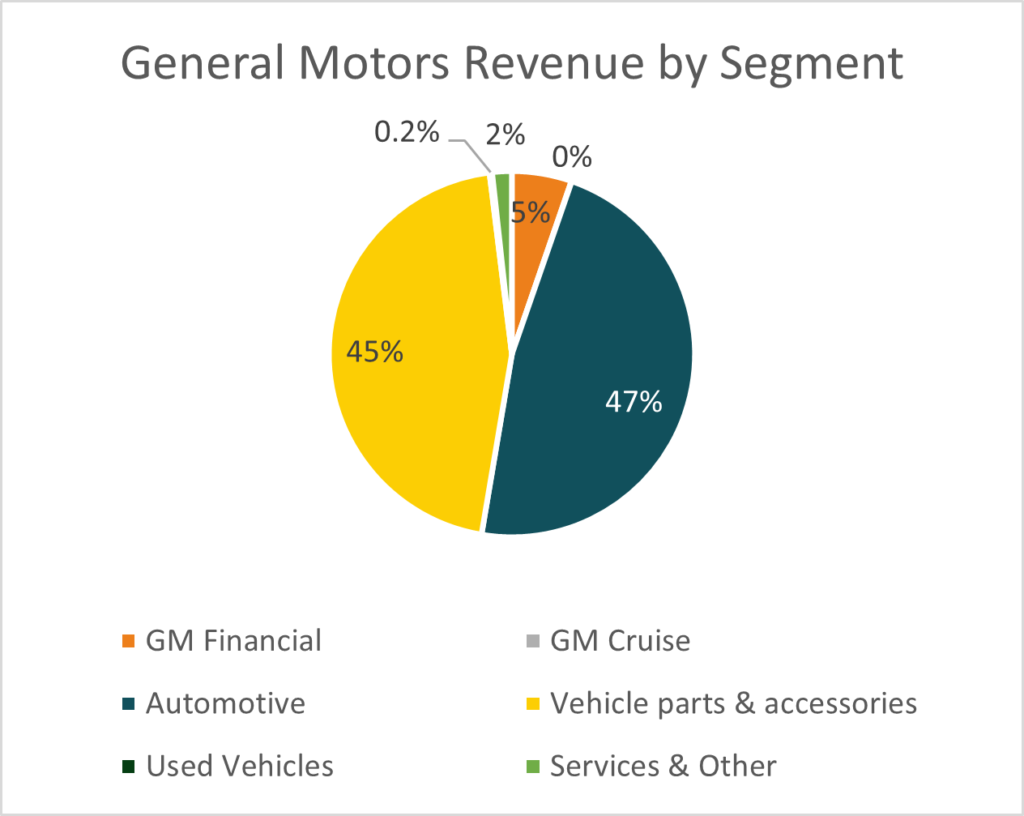 As at 30 June 2021 
GM's customers include consumers, commercial businesses, corporations, and governments through more than 100 locations across the US that manufacture, assemble, distribute, warehouse and test its products. It has locations with similar functions in more than 30 other countries which includes Argentina, Brazil, Canada, China, Colombia, South Korea, and Mexico.
GM's biggest single market in the US, which accounts for about 85% of sales, and considers China to be key in its global growth strategy. Looking toward the future GM is investing in developing electric vehicles and autonomous vehicles.