KEY CONCEPTS
< Go back
Dow – Dow Inc.
It was incorporated in 2018 and is headquartered in Midland, Michigan. It has clients in the automotive, consumer care, construction & infrastructure, and packaging industries, with operations in the US, Canada, Europe, the Middle East, Africa, India, Asia Pacific and Latin America.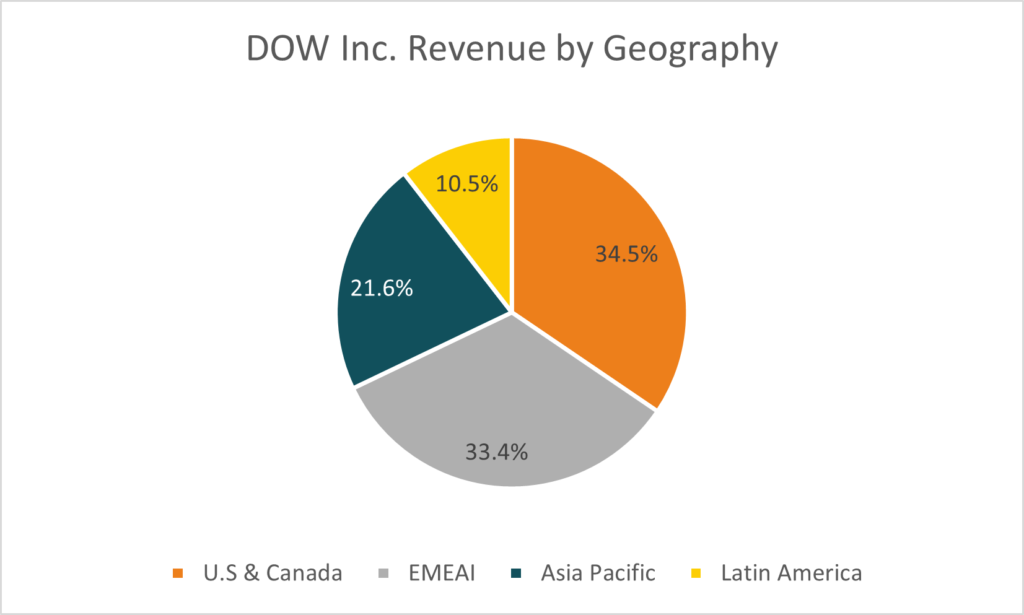 Its products include adhesives and sealants, polyethylene (used for making plastic), polyurethanes (used in making foam), silicones, elastomers & plastomers (used in packaging), and additives & modifiers. 
It operates through 3 segments: Packaging & Specialty Plastics (51%), Industrial Intermediates & Infrastructure (31%), and Performance Materials and Coatings segments (18%). 
The Packaging & Specialty Plastics segment provides products for plastic and rubber. 
The Industrial Intermediates & Infrastructure segment manufactures caustic soda, silicones, ethylene dichloride, and vinyl chloride monomers, and others. 
The Performance Materials and Coatings segment provide architectural paints and coatings used in maintenance and protective industries, wood, metal packaging, traffic markings, home, and personal care solutions, and others.