Microsoft Corporation (MSFT)
19 Jan 2022
On Tuesday, Microsoft Corporation (MSFT) announced it had reached a deal to acquire Activision Blizzard (ATVI) in an all-cash offer totaling US$68.7 billion, valuating ATVI at US$95 per share.
The ATVI share price climbed +26% to US$82.31 while MSFT shares declined –2.43% to US$302.65. While the deal is likely to face anti-trust scrutiny, analysts from Bloomberg citing anti-trust experts suggest that the deal has a good shot of clearing regulatory hurdles over the coming twelve months. With US$131 billion in cash, AAA credit ratings and nearing US$60 billion in annual free cash flow, MSFT is seen as being able to peruse additional M&A to enhance its gaming and Metaverse offerings.
The acquisition is seen as giving the software giant access to video games such as the Halo franchise, Call of Duty and Warcraft as it bets on a push into the Metaverse, adding to more subscription-based revenue. MSFT's GamePass currently has over 25 million subscribers, with the potential pool further increased by the 400 million users globally of Activision's games. Following recent acquisitions of Mojang, the creators of Minecraft and Bethesda Softworks, known for the Fallout series, the acquisition of Activision will see Microsoft become a top-three revenue company, closing the gap on rivals Tencent and Sony. Shares in Sony depositary receipts traded in the U.S. declined –7.17% on Tuesday following the announcement, given the increased competition from Microsoft seen as creating headwinds for the company after years of leading both revenue and exclusive games.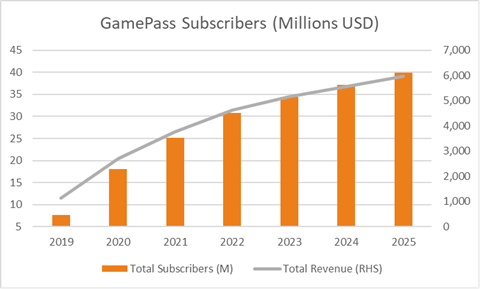 Analysts suggest the merger will be an attempt by MSFT to pull video game enthusiasts from their rival SONY PlayStation platform by making some content exclusive to the XBox.  To this, MSFT's Phil Spence responds, "I'll just say to players out there who are playing Activision Blizzard games on Sony's platform: It's not our intent to pull communities away from that platform and we remained committed to that."
Analysts maintain a bullish outlook for MSFT, with 90% of analysts having a buy recommendation with an average twelve-month price target of US$372.05. The chart below shares the twelve month percentage returns for both MSFT and ATVI, MSFT has recently pulled back -13% after reaching an all-time high of US$349.67 in November 2021.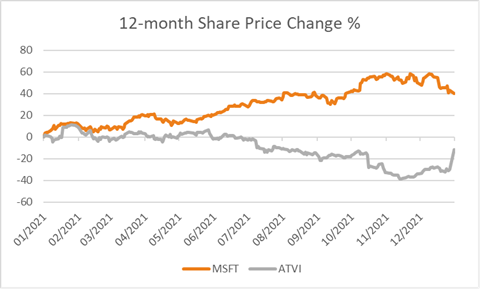 We are glad you liked it
For your convenience, this will appear under your Saved articles in the top menu.